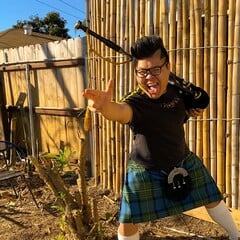 Brian "Panda" Choi
Character Artist, Game Developer, Comedian, and Bagpiper
Los Angeles, United States of America
Summary
Legal name is Brian, but friends usually call me Panda. I'm primarily a Character Artist, but my commitment as a game developer overall has gotten me embroiled in art direction, environment animation and rigging, Unreal Blueprint scripting, level building, and even motion capture performance.
I am also the Area Service Lead for the Los Angeles / Orange County Chapter of Gamers For Good non-profit.
I also do catering as a hobby. You get kimchi chiggae, you get kimchi chiggae, and YOU get kimchi chiggae . . .
Skills
Character Modeling
Character Design
Unity
Unreal
Software proficiency
Productions
Video Game

The Maestros

Year

2018

Role

Art Director

Company

Systence Games

Video Game

Coco VR

Year

2017

Role

Contract 3D Generalist

Company

Magnopus

Video Game

The Mage's Tale

Year

2016

Role

3D Artist

Company

InXile Entertainment

Video Game

What Remains of Edith Finch

Year

2016

Role

Contract Character Artist

Company

Giant Sparrow

Mobile Game

Meek Mill Presents Bike Life

Year

2015

Role

Contract Character Artist

Company

IM3 Gaming

Commercial / Advertisement

Disneyland Storybook Express

Year

2015

Role

3D Artist

Company

Martin Brinkerhoff Associates

Commercial / Advertisement

King Triton's Concert

Year

2015

Role

3D Artist

Company

Martin Brinkerhoff Associates

Video Game

Diablo 3

Year

2012

Role

Game Tester Intern

Company

Blizzard Entertainment
Experience
Character Artist at InXile Entertainment

Newport Beach, CA, United States of America

- Created character and environment art assets, including sculpting, modeling, and texturing.

- Scripted art assets and level scenes in Unreal.

- Rigged and animated environment art assets.

- Built Substance materials for team-wide texturing pipelines.

- Projects: The Mage's Tale, The Bard's Tale IV, and Unannounced Project

Character Artist at Freelance

Buena Park, California, United States of America

- Clients: Giant Sparrow, Camouflaj, Magnopus, The Third Floor, Motion Logic Studios, Open Realms, and other developers.

- Projects: Final Fantasy XV Kingslaive, Republique Remastered, What Remains of Edith Finch, Coco VR, and more.

- Creating character, environment, and prop assets for games and previsualization.

- Rigging character assets for games.

- Concepting visual designs.


Contract 3D Character Artist at Microsoft

Redmond, Washington, United States of America

- Created character and prop assets for XBOX Avatars in the Unity Engine.

Contract Character Artist at Kabam LA

Culver City, California, United States of America

September 2013 - July 2014

- Created low-poly character assets, including 14 character models, 100 weapon variants, and 9 accessories.

- Implemented optimization techniques in character creation to maximize asset reuse on mobile platforms.


2D/3D Artist Intern at Reverge Labs

Marina del Rey, California, United States of America

- Animated, inked, and cleaned-up 2D character animations and effects

- Illustrated character and environment concept art for unannounced game projects

- Modeled 3D and painted 2D environment assets


Contract 3D Artist at Martin Brinkerhoff Associates

Irvine, United States of America

August 2014 - November 2014

- Modeled high-resolution characters and props for Disney projects

Game Tester Intern at Blizzard Entertianment

Irvine, United States of America